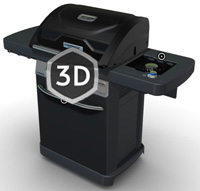 The
Master 3 Series Classic LXS
combines unique features including the innovative Even Temp® Technology, versatile
Campingaz® Culinary Modulars
and reliable
InstaStart® ignition
all packaged within a stylish body.
The improved Campingaz InstaClean® System's new treatment protects the removable barbecue surfaces for effortless, dishwasher-safe cleaning after use.
Thanks to the high-power stainless steel burners, combined with the new enameled double-wall lid, you will have the freedom to cook all year round, confident that you will have the ultimate barbecue performance at your fingertips.
Each model features stable side tables that can hold up to 50kg in weight, perfect for plates and condiments, while thecastor wheels allow you to move the barbecue to the perfect grilling spot, regardless of the ground surface.
- Powerful Stainless Steel tube burners for even heat distribution and great results
- Improved Campingaz InstaClean® System makes cleaning even easier
- 10 years warranty on the stainless steel lid and stainless steel burners
- InstaStart® ignition and illuminated control knobs offer ease of use in the dark
- Stainless steel double wall lid gives an elegantly designed finish
- Robust side tables can hold up to 50kg of weight on LXS models
- Caster wheels with brakes offer easy mobility and a secure stance
- Scratch resistant coating for a premium and easy to maintain finish
10 years Warranty on Master Series Stainless Steel Burners and Stainless Steel Lid as well as 5 years Warranty on Cast Iron Grids.