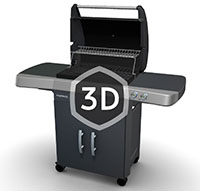 The
2 Series RBS LX gas barbecue
will effortlessly become the heart of any outdoor entertaining area.
Food connoisseurs will appreciate the Even Temp™ heat distribution and side mounted RBS® ceramic burners that promote healthy cooking with fewer flare-ups. Lazy chefs will also enjoy easier cleaning thanks to Campingaz InstaClean® technology.
The integrated Culinary Modular Barbecue Accessory system ensures you'll become a barbecue maestro, tantalising taste buds and cooking up an international storm in record time.